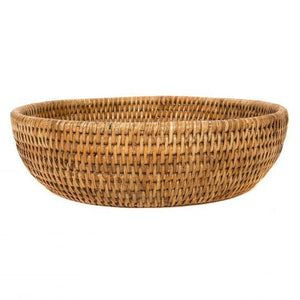 Rattan Everything Bowl
Regular price $65.00 Sale
Rattan Everything Bowl This handwoven rattan bowl is a great solution to organize your home and instantly upgrade the look of any room in the house.
A versatile piece, use it to store fruit or bread in the kitchen or hand towels in the bathroom. Our rattan bowls feature a sophisticated accent that will easily complement any table setting or room in the house.
*Please note this product is handmade and each piece is unique therefore slight variations and imperfections exist and add to its unique character
ORIGIN: Hand Woven by Local Artisans from Burmese Rattan -Natural and Sustainable
CARE: Wipe Clean with Damp Cloth
DIMENSIONS: 10" X 10" X 3"
FACTS & HISTORY: Rattan arrives as long poles with a sturdy outer layer, so first, the poles are cut into smaller and more manageable pieces. Then, the bark is scraped off. This is what ultimately makes cane products, so the bark is cut into strips and used for weaving.
The skinned rattan is then cut into either flat strips or thin wires. This depends on the desired pattern to be used for weaving. Some of the rattan pieces are reserved to carve out a frame for the item that needs to be made.
Once the rattan is cut into uniform strips, they're dried under the sun or simply air-dried before being soaked in water. This process makes the strips more malleable and thus, easier to bend and weave with.
Then, based on the frame, each strip is taken and woven till it produces the desired shape and size. The craftsmen spend around one to four days working on a single project. The actual time for a project depends on the weaver. If they weave too tightly, they will require more time to finish.
Once the weaving process is complete, the item is painted and sealed with lacquer to make it water-resistant.