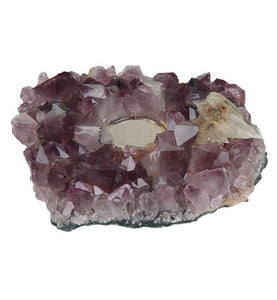 Amethyst Cluster Votive Candle Holder
Regular price $95.00 Sale
Amethyst Cluster Votive Candleholder, beautiful with a lit tea light candle, makes a gorgeous and relaxing room accent either alone or grouped together. Perfect to create an aura of serenity during meditation or aromatherapy practice.
Amethyst is idolized globally for its powerful healing properties and alluring color of beauty. Amethyst is a natural stress reliever and manifests a powerful visual stance. It helps stimulate mind and emotions. Perfect to create an aura of serenity during meditation. Makes a stunning decor in any setting.
MATERIAL: Brazilian Amethyst, high quality 
ORIGIN: Brazil
DIMENSIONS: Each is one of a kind and size average ranges from 4-6" W and 2-3" H, all shapes vary
*These are natural high quality Brazilian Amethyst and as with all natural items, they will vary slightly in size and color from small to large, light to intense in color. This is an inherent characteristic and it's uniqueness is desirable, not a defect.
FACTS & HISTORY:
In Greek mythology, a titan named Rhea gave the god of wine, Dionysus, an amethyst to help preserve his sanity. In fact, this myth led the ancient Romans to believe that amethysts could keep them from getting drunk.
Amethyst is said to be a powerful stone for protection and purification of both the spiritual and physical bodies. It purifies the energy field of one's body as well as any room it is placed in. This makes it an all around excellent healing stone as it removes negative influences and attachments in the environment that would hinder one's spiritual, physical, and emotional healing.