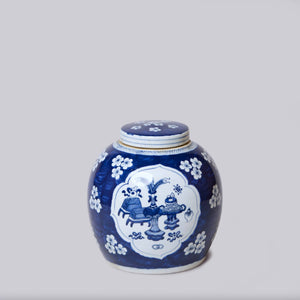 Plum Panel Blue and White Porcelain Lidded Round Storage Jar
Regular price $156.00 Sale
Plum Panel Blue and White Porcelain Lidded Round Storage Jar
The porcelains we sourced for inspiration were made in the ancient city famous for blue and white and the imperial kilns - Jingdezhen. In the Chinese tradition, potters draw direct inspiration from designs from the past, so we choose pieces to represent the best design, regardless of age. Auspicious images that hearken to the earliest designs in blue and white from the Yuan, to the early modern wares of the Qing - each piece is just as valid a treasure as the original that inspired it.The artisits that create these pieces are passionate and study their beauty by strolling antiques markets and museums for inspiration and visual delight.
DIMENSIONS: 10'' DIA x 9.5'' H
* Made with skill and joy, imperfection is inherently part of its character. Minor variation of color/shape/size is expected for this handmade artisan crafted products, it is desirable and not considered a manufacturing defect.
 *PLEASE NOTE THE UNIQUE CHARACTER OF ALL OUR WARES. SMALL SPOTS, FLECKS, POCKS AND VARIATIONS ARE ALL PART OF THE CHARM OF HANDMADE WARES.