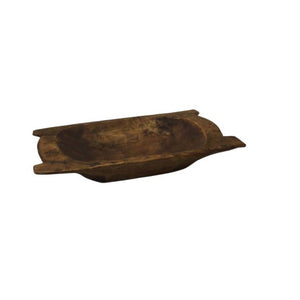 Large Saranda Style Dough Bowl
Regular price $75.00 $40.00 Sale
Large Saranda Style Dough Bowl a modern decorative version of traditional style carved wooden bowl, perfect for creating an eyecatching centerpiece. We love it for holiday decor overflowing with greens and decorations.
DIMENSIONS: 18'' L X 9''W X 4'' H
MATERIALS: Wood
*please note not for direct contact with food, liquids or candle wax
**natural handmade product, expect some variations in texture, size and color 
FACTS & HISTORY: The family dough bowl was a critical part of the family food preparation.  It was a highly used and highly treasured kitchen tool.  As well it was common place for a future husband to carve a wooden dough bowl for his bride as a wedding present.   The girls in a family also had a strong desire to have a dough bowl for her hope chest, assuring her future husband that she could adequately bake and cook. A mother's dough bowl was usually one of the items in an estate that was most sought after and typically left to the oldest daughter.