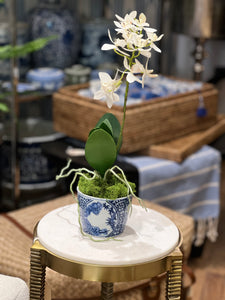 Custom Faux Real Mini Orchid, Arrangement
Regular price $75.00 Sale
Fabulous Faux Real White Mini Orchid is so life like and perftly perfect for our Canton Canton Cache Pot Collection! Cut Floral Foam to fit your pot, insert your Orchid, top with Moss and secure with Floral Picks. We think it's a decor match made in heaven!
Delicate White orchids blooms extend off of each stem
Created with the utmost care from the highest Quality material
Recommended for indoor use or a covered, protected outdoor location
Melissa's Tips and Tricks - Although we love fresh flowers, building a faux floral "wardrobe" to pull from when you don't have time or patience for fresh flowers can be a lifesaver.
We recommend starting with a dozen stems of your favorite floral pairings and a versatile vase  you know is the right size, then build a collection of seasonal and occasional options. Choose your selection like the professionals do, a mix of fillers, thrillers and a few spillers. 
It is a wonderful investment when your arrangement doesn't turn out the way you expected and/or who hasn't woken up to unexpectedly wilted flowers. We think they are also perfect for weekend homes or when you leave for a trip, always lovely to greet you and never deal with a dead arrangement and smelly water again.
*Need help selecting or don't see what your looking for? Contact us for the most realistic selection of custom options.
DIMENSIONS: 2 x 3 x 13 inches
MATERIAL: Molded Plastic
CARE & MAINTENANCE: Lightly dust regularly to keep looking fresh, refresh once or twice a year by misting with water or flower spray cleaner
FACTS & HISTORY: In the mid-1750s when Peter Osbeck, a Swedish naturalist, mistook the common Phalaenopsis Orchid for a cluster of moths, dubbing it "the moth orchid." Even as the orchid was officially named, this nickname remained.
The genus name "orchid" comes from the Greek word meaning "testicles," influenced by the bloom's appearance. "Cymbidium Orchid" is a product from the Greek word "kymbos," describing the boat-shaped lip of this particular plant. Finally, the "Dendrobium Orchid" translates to "life in a tree" in the Greek language.   
Orchids have been linked to fertility and virility since ancient times. The Greek men who consumed the large tuberous roots believed they would soon have a son. When the Greek women consumed the smaller orchid roots, they were said to give birth to a daughter.