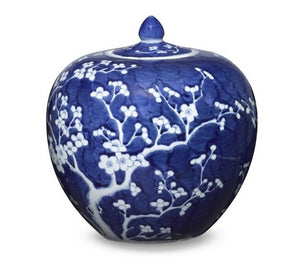 Blue and White Chinoiserie Porcelain Melon Jar, Plum Blossom Motif
Regular price $295.00 Sale
Blue and White Chinoiserie Porcelain Melon Jar, Plum Blossom Motif, each piece is high quality Antique Reproduction Porcelain handmade in Jingdezhen, China. The Artisans use ancient traditional methods of making porcelain and then age them underground for a true unique patina. Made with skill and joy, imperfection is inherently part of its character. Minor variation of color/shape/size is expected for this handmade artisan crafted products, it is desirable and not considered a manufacturing defect.
* Please note these pieces are shipped in their antiqued condition (as pictured) but depending on your preference you may chose to remove some or all of the patina. We recommend using a soft wash cloth and gentle dish soap. 
DIMENSIONS: 11"Dia x 11"H
ORIGIN: Jingdezhen, China
FACTS & HISTORY: Blue and white wares are glazed using a transparent porcelain glaze. The blue decoration is painted onto the body of the porcelain before glazing, using very finely ground cobalt oxide mixed with water. After the decoration has been applied the pieces are glazed and fired.
There are specific characteristics of the finest most desirable blue and white antique porcelain wares. A translucent body showing through the clear glaze is of great whiteness and the cobalt decoration, applied in many layers, having a fine blue hue. The pieces would have been fired in a saggar (a lidded ceramic box intended to protect the piece from kiln debris, smoke and cinders during firing) in a reducing atmosphere in a wood-burning egg-shaped kiln, at a temperature approaching 1,350 °C (2,460 °F).
It is believed that underglaze blue and white porcelain was first made in the Tang dynasty. Only three complete pieces of Tang blue and white porcelain are known to exist (in Singapore from the Indonesian Belitung shipwreck).
Starting early in the 14th century, blue and white porcelain rapidly became the main product of Jingdezhen, reaching the height of its technical excellence during the later years of the reign of the Kangxi Emperor (1661-1722)[58] and continuing in present times it's large-scale production is an important product of the city.