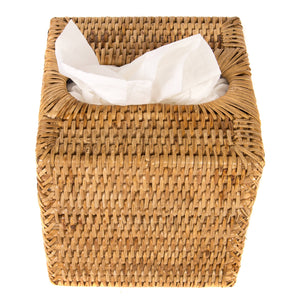 Rattan Column Tissue Box Cover
Regular price $75.00 $60.00 Sale
Rattan Column Tissue Box Cover  These handwoven rattan tissue box covers provide a touch of elegance while offering a durable and functional solution to cover up unsightly tissue boxes. They also add warmth, color and texture to your decor. 
Products are handmade and each piece is unique therefore slight variations and imperfections exist.
DIMENSIONS: 5.5" L x 5.5" W x 6" H
ORIGIN: Hand Woven by Local Artisans from Burmese Rattan -Natural and Sustainable Product
CARE: Wipe Clean with Damp Cloth -Made in Myanmar
FACTS & HISTORY: Myanmar (formerly Burma) is a Southeast Asian nation of more than 100 ethnic groups, bordering India, Bangladesh, China, Laos and Thailand. Yangon (formerly Rangoon), the country's largest city, is home to bustling markets, numerous parks and lakes, and the towering, gilded Shwedagon Pagoda, which contains Buddhist relics and dates to the 6th century.
In 2015, Myanmar ranked as one of the largest exporters of bamboo and rattan products. Main exported products include bamboo and rattan raw materials, woven rattan products and bamboo and rattan seats. Bamboo traditional uses in Myanmar comprise construction of housing and bridges, manufacturing of furniture, woven products and handicraft.